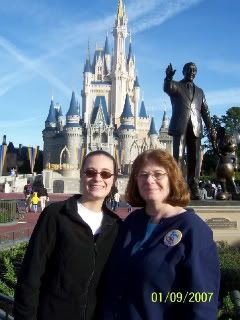 It's no secret, we are huge Disney World fans and love to share it with anyone who is willing. In 07 I took my mom for her first (and only) trip ever and she loved every minute! Since then we have been trying to convince my dad he will love Disney too. No luck...at all. I never knew what his real reasons were, but he often threw out the easy excuses of "We don't have the money" or "it's too expensive".
But the last time we talked about the possibility of them going with us, he only gave one of his famed excuses once. And actually sat and seemed to listen intently as we talked about our favorite attractions and restaurants.
Then today....they stopped over and my dad asked about when we were going to Disney next. I said "It depends. If you go with us, we'll go in November (my mom really wants to see Christmas decor and such) and if not, we'll go in January." He then asked, "Well, when in November?" So I gave him some specifics and told them the approximate costs, then later turned my laptop on and gave them an exact quote from Disney's website, without a promo, so they know the absolute max it would cost. (But we're really really hoping for free dining promo for fall!!!) I wrote the dates down and he is going to check with work to see if he can get those days for vacation or not.
I am beyond excited!!
But also stressed.
My dad is not a crowds kind of guy. And we all know Disney can get crowded. The time we want to go, after Christmas decor is up, but before Thanksgiving, is Jersey week. I have never been that time of year and some websites I've checked say it's manageable, others say it's horrendous. And I worry about airfare costs too....if we try to avoid Jersey week, we have to go weekend to weekend and flights are always higher those days, compared to flying Tuesday thru Thursday.
Last thing I want is the trip to be awful and my dad to feel like he wasted his money.